In July 2018 I was commissioned by Leeds City Council to create an illustration for an underpass in Holbeck, in my home town of Leeds.
I created the illustration on the iPad, in Procreate and Adobe Illustrator Draw and the added some finishing touches in Illustrator desktop.
The purpose of the commission was to brighten up the walk from the centre of Leeds, to Leeds United's ground at Elland Road.
I decided to draw Elland Road Stadium, with fans celebrating outside and the Billy Bremner statue in the background. The other side of the panoramic image shows various people enjoying the nearby park and the Holbeck in Bloom flower display.
I wanted to create an illustration that reflected the heritage of Leeds and Holbeck, that would be embraced by local residents.


Press about this illustration:
This is the view from the park side, as you approach from the city centre. I put Elland Road on the left, so that people know they are heading in the right direction. I have featured Holbeck in Bloom's flower display on the right, with skaters, a kite flyer and a couple relaxing.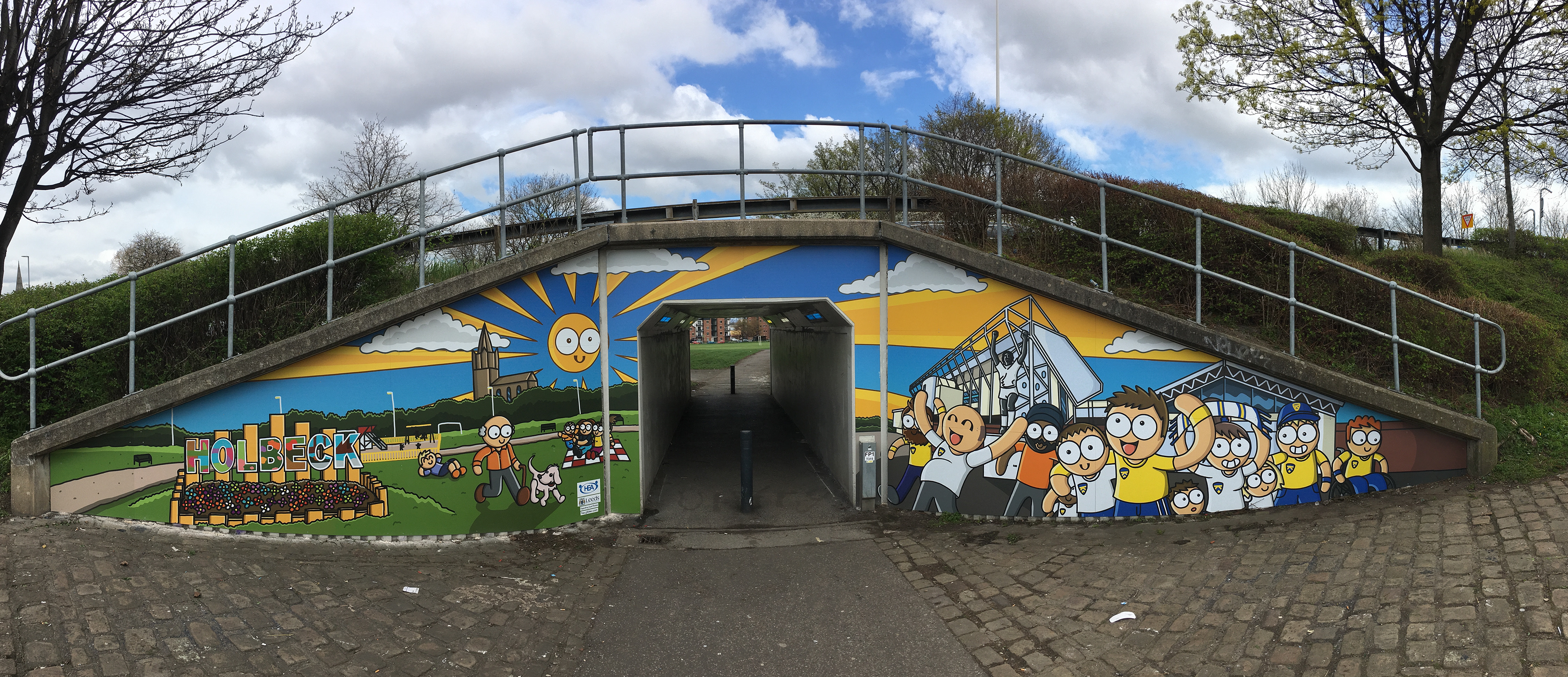 This is the view from the Holbeck Fisheries side, which shows the park on the left and Elland Road on the right. I wanted to make it easy for people to understand that they were heading back to the city centre.
This is what the tunnel looked like before the artwork was installed.
The artwork was skilfully installed in early April 2019 by
Image Co
. It was printed onto aluminium sheets and fixed to the underpass.
The project was delayed in August 2018, when I fell down some stairs and broke two fingers on my drawing hand. I had to undergo a complex surgery to fix them and it took several months to recover enough to draw. I am very grateful to the hand unit at my local hospital for their incredible care and Lewis Cooper at the council for agreeing to delay the project, in order to give me time to recover.
This time also saw the birth of my first child, which I have snuck into the illustration, along with myself and my wife (see if you can spot it).
Here is where to find the mural.